Using WordPress for blog content hosting has become more and more popular. WordPress powers more than 30% of the Internet, which is a massive stat. The more people associated with WordPress the more fragile it becomes. Hackers are everyday eyeing for a way to break into WordPress sites and thus WordPress security has become a prominent issue, and that's why we made this security ninja review .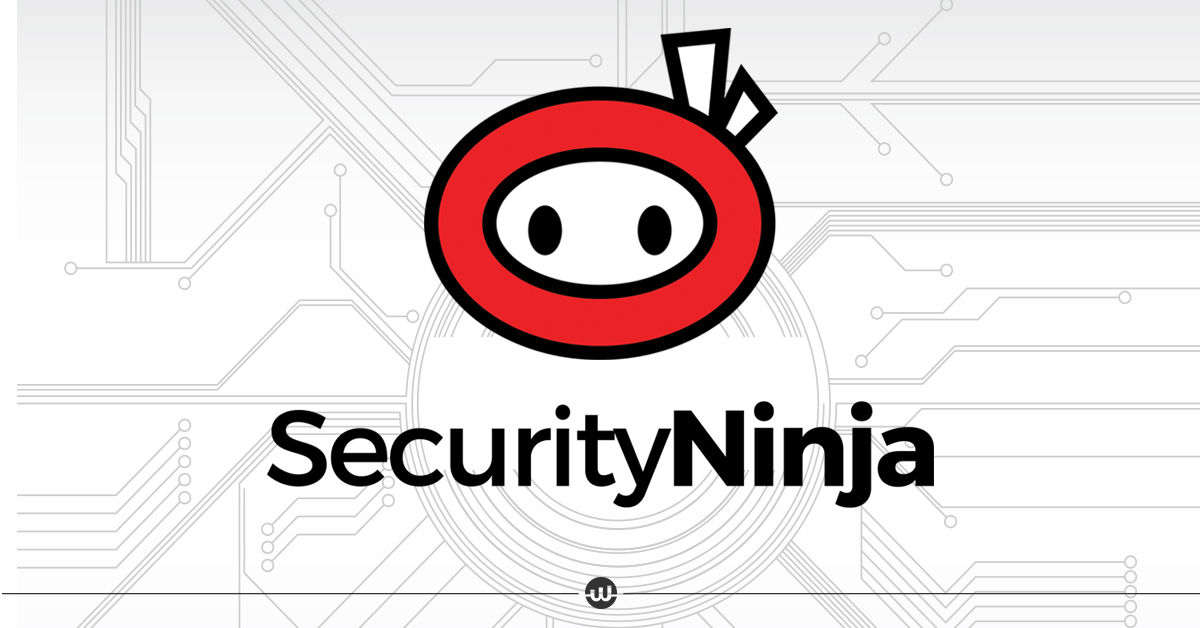 Everybody who uses WordPress must have security aspect of their site in mind. If you don't then you are opening doors for attacks. There are lists of security plugins that could be found for WordPress. Many plugins have distinct features and attributes. Out of them let us talk about Security Ninja, which I found to be very interesting.
Security Ninja Review
Using Security Ninja is like hiring a personal security tester for your site. You may use plugins to defend your site but you do not know how much can it defend. It can only be known if you are capable of testing your site yourself but it needs lot of professional skills.
But, worry no more. Security Ninja does the same thing. You don't have to get your head heated over those tests. Just let Security Ninja do for you. It checks your site with 50+ tests to find possible loopholes and notifies you of one and all of this for free.
And, not only it lists those problems of your site, it suggests you how you can prevent them. When a test is taken, complete lists of possible threats are shown. When you click them, you get tips for what to do next.
Installing Security Ninja is very simple; just follow these instructions from your WordPress Dashboard.
Open WordPress admin, go to Plugins, click Add New
Enter "Security Ninja" in search and hit Enter
Plugin will show up as the first on the list, click "Install Now"
Activate & go to Tools – Security Ninja to make your site more secure
While using Security Ninja I was impressed with many things. But, the ones that I preferred the most were:
Brute Force Attacks on User Accounts
Brute force attacks are the most common ones and in many cases the most dangerous. It is a simple attack strategy where hackers test your site with lists of auto-generated passwords. Those passwords can be generated with different programs and platforms.
A hacker then uses those possible combinations of password to get near your actual password. This process takes time, but if you have simple set of password then it is easy.
Sometimes, we may think we have the right set of password but without testing it we cannot be sure. This is where this plugin comes into play. It runs brute force attacks on your user accounts, and tells if you are vulnerable for external attacks like those.
0-day Exploit Tests
0 day exploit is a serious problem for any sites/software.  Everything runs on codes and sometimes the codes can have an exploitable point which the developers are not aware of.
In WordPress we use different plugins, custom codes and so on. Codes are everywhere and they are what your site is made of.
Here, 0-days refer to the number of days that the person who should fix the problem has known about it. It is zero cause, they don't know yet.
This is very dangerous because no one knows they are out there. So, in order to scan your site for those small loopholes hidden in your core codes, Security Ninja is a best possible idea.
Core and Plugins/Themes Update and Compatibility
Updating your WordPress core is a must for any users. And, along with the updates you must be aware if your plugins/themes are compatible with your core.
Security Ninja checks whether a plugin is compatible for your version of WordPress or not and if they can pose a harm in future. Those incompatibilities can lead to serious situations and open new doors for hackers.
So, checking your core, themes, and plugins and so on for updates and checking their compatibility is a must to do job. Security Ninja helps you do it efficiently. Just take a look how bad old WordPress plugins can be.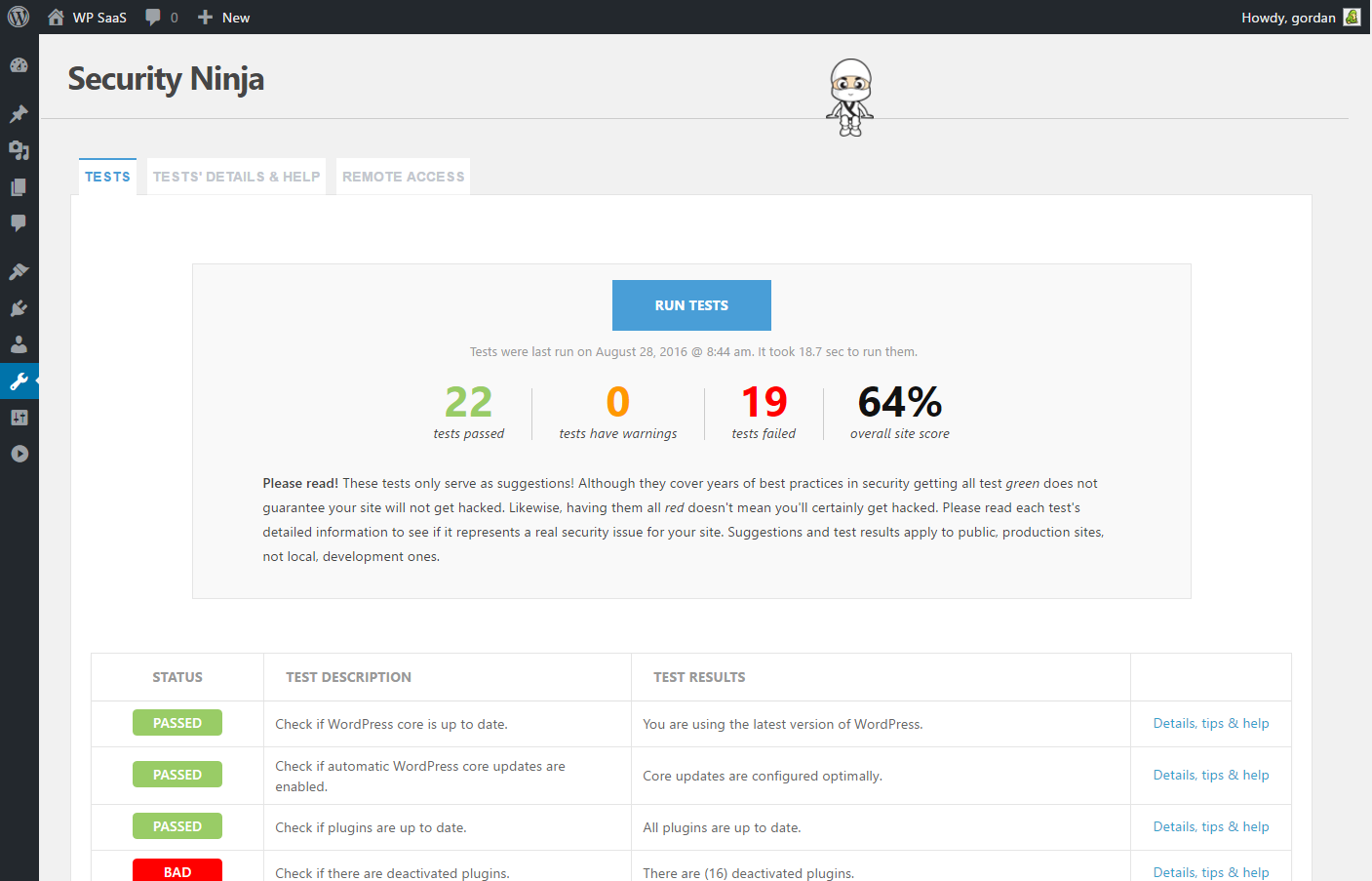 Tons of Minor tests with Major Security impact
As I said earlier, this plugin tests your website with 50+ tests. Out of those, there are many small level tests that many people won't even notice. Those minor problems can cause a major impact of security for your WordPress Site.
Database configuration tests, Apache and PHP related tests are much important. If you have some defect or you are using wrong settings for your PHP directive then you are openly exposing yourself.
It also checks if the server is vulnerable to Shellshock bug or not. And also if MySQL server is connectable from outside with the WP user. Not only that the lists goes on.
These are all useful tests that you must not miss and check repeatedly for errors.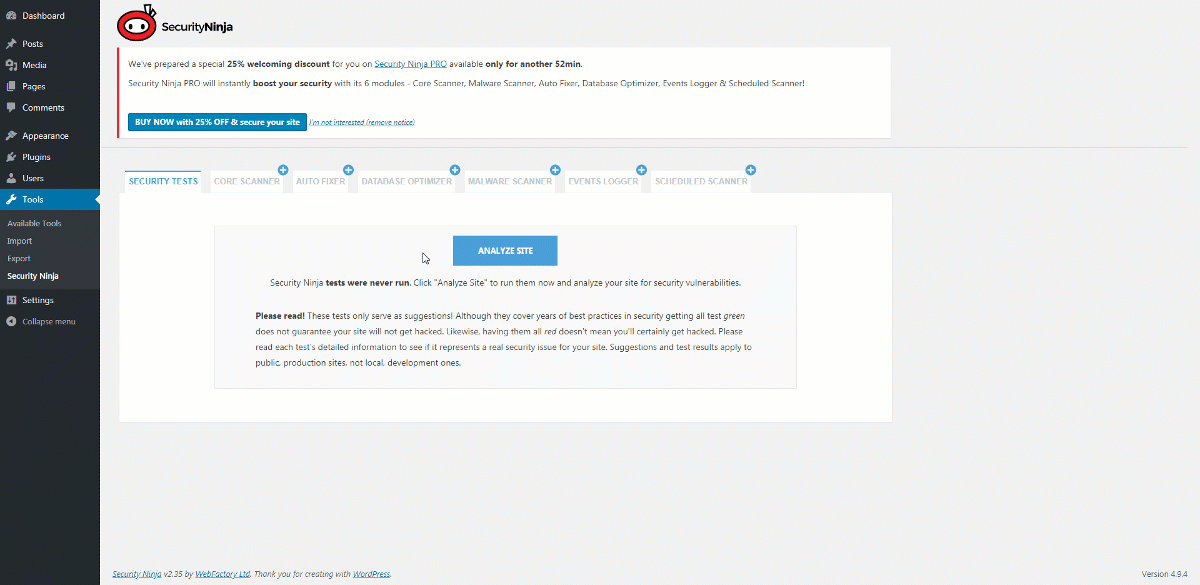 Wholesome PRO features
Most of the features provided by this plugin can be used for free. But, if you want to step up a notch for additional features then the Security Ninja PRO pack is for you.
There are different modules that are available. That include;
Core Scanner that scans your WordPress core files and keeps them in check. If some of the files are modified that you will know the details and change it.
Malware Scanner scans your site completely for hidden malwares and prevents from further malware attacks.
Auto Fixer fixes your problems with a single click. During your test if a problem is shown then fix it with a single click.
Cloud Firewall protects you with bad IPs and blocks them forever tampering with your sites.
Events Logger puts the details event log of your website so that you know when something is changed or if a bad action is taken.
Database Optimizer cleans the garbage of your database and thus optimizes the performance of your site.
Conclusion:
I found Security Ninja to be quite useful. But, do not rest assure with only using this plugin. Yes, it lets you find holes and weak spots in your site but that does not necessarily mean you won't ever be attacked. It's upto you to follow necessary security protocols to keep yourself safe. If you use Security Ninja wisely then you will surely step your security of your website.