Guest Blog by : 5ines Team
Affiliate marketing is one of the effective ways of marketing when it comes to earning money online which is beneficial forboth the merchant and affiliate. There are many advantages of affiliate marketing. When it is done with the right strategy, affiliate marketing can prove to be an easy way to create additional sources of income It is specially beneficial for those wanting to earn without having to spend too much time and effort monitoring sales or client response. using the Good relationships and getting the right partners can prove favourable in the long run.
What is affiliate marketing?

Affiliate marketing is one of the oldest forms of marketing wherein you refer someone to any online product and when that person buys the product based on your recommendation, you receive a commission.
A tracking URL, which is a unique link given to you by the affiliate company or product company helps you rack the record of who is sending the traffic and making the sales. This URL is used to keep track of all the traffic and sales you are making via your website or other promotional techniques.
What are the benefits of opting affiliate marketing?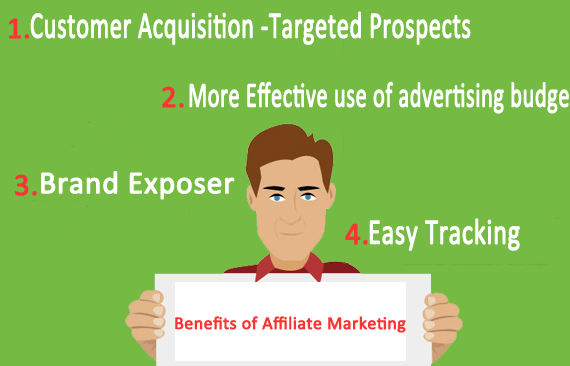 Customer Acquisition – Targeted Prospects
Affiliates choose the ads they wish to place on their websites. They know their audience and will pick the campaigns most suited to their demographic. As such, the ads are targeted by humans. It is in the affiliate's interests to pick the ads that their audience is likely to respond to.
More effective use of advertising budget
Marketing is all about increasing ROI for prospective customers, and affiliate marketing is no exception. When you spend money on any kind of advertisement, you want to make sure that the amount you spend to get a new customer is worth the investment. Performance based marketing lessens the amount of money you spend and reduces the risk of having a bad ROI.
Let's say that you have an affiliate for your dog food company. Each time you make a sale, you might pay a 5% commission. Since you are only paying when you made a sale, you are certain that you only make an investment when there has already been a return.
Easy tracking
Like other types of Internet marketing strategies, such as email marketing and website creation, one of the greatest benefits to doing affiliate marketing is the fact that it can be tracked. Affiliate programs often allow you to see certain things like click-through rates or views of your site as a result of a customer having viewed an affiliate web page.
This is an important part of building an effective affiliate marketing strategy because it allows you to see which affiliates work and which do not. Additionally, it may also tell you how you are performing on the different affiliate websites with different marketing tools, such as through a banner ad or a link placement. This will help you spend your money more effectively by continuing to invest in the types of ads that seem to get the best results.
Exposure
Without a doubt, exposure is key to any component of a marketing strategy. By having affiliates, you can have your product or service held out for the online world to see. And by staying present on appropriate sites, your exposure will increase exponentially by staying in tune with the correct, targeted demographics.
Exposure also allows you to build an image and brand name. Building those allows you to leave a lasting impression on prospective customers so that they are more likely to come back and make a purchase. And because it leaves a lasting impression, that means it is likely to be spread to others through the Internet and even word of mouth.
Here are some of the best Affiliate marketing strategies:
1. Go one inch wide and one mile deep
Many first-time affiliate marketers make the mistake of going one mile wide and one inch deep: trying to dominate forty niches in their first few years.When you hear about friends making millions from Click bank products, and marketing products in emerging niches, it can be tough to stay focused.The price for losing focus, though, is having a portfolio of 21 websites in random niches all with a pitiful domain authority generating next to nothing in sales.By all means, experiment with different niches once you've achieved a level of success you're happy with on your first website, but to begin with go one inch wide and a mile deep.
2. Create content that your competition can't compete with
One of the biggest challenges facing affiliate marketers right now is the need to prove their value as middlemen in the value chain.One of the biggest advantages affiliates have over established brands, and one of the greatest opportunities to add value, is the ability to be agile and act quickly with content marketing.While brands spend months approving their content strategy and holding fruitless meetings, affiliates can be creating content of such a high standard, that competitors simply won't have the resources to compete with, and Google would be foolish not to drive traffic to.
3. Build a brand that adds value to the consumer
It's no surprise that Google's brand-bias is strengthening. For many affiliates, this is quite a concern, as affiliates haven't traditionally had to concern themselves with building a strong brand.
4. Build a foundation of recurring affiliate revenue
With affiliate marketing, there is no assurance that your current strategy will work in a month's time. Whether it's due to Google updating their ranking algorithm, your favourite affiliate program shutting down, or media buying costs increasing, you'd be wise to mitigate against the possibility of major changes.
5. Focus on topic targeting, not keyword targeting
Google's attempt to reduce the SEO community's focus on keyword targeting hasn't exactly been subtle.From removing keyword data in Google Analytics and exact-match keyword targeting in Google AdWords, to improving their understanding of similar terms, it's becoming harder for digital marketers to target individual keywords.While on the surface this may seem like bad news, it's arguably a blessing in disguise as it encourages a shift towards topic-targeting, and a focus on capturing long tail traffic.
Conclusion:
Affiliate marketing when done with right strategies can prove to be an amazing sales channel for your business.When potential customers find your business through the affiliate site, it not helps you gain new customers for your business but also gives your brand a lot exposure.It is often one of the more cost effective channels since you only pay when a successful transaction happens.Affiliate programs are ideal for businesses that are trying to get new customers.
Author Bio:
We are a passionate SEO, digital marketing, influencer marketing specialists helping businesses in all aspects of online marketing. we have been progressively involved in the digital marketing space for many years. we have brought a genuine passion for all digital channels, emerging technologies and trends to clients with a methodical lens in developing winning digital marketing strategies.