Why Amazon Affiliate Marketing Course ?
Basic Amazon Affiliate Marketing Course is designed to help people Making money from Amazon , is Amazon Affiliate Marketing one of the most popular trends in the affiliate marketing industry today.
Amazon hold a high level of trust among online shoppers, and this makes the buying decision easier for anyone who wants to buy something on Amazon.
You can leverage this trust on your affiliate marketing website, as you will be eliminating the buyer's hesitation to buy because they don't trust the product's company.
It is interesting to know that Amazon's main income comes from products sales which reached $30 billion in the second quarter of 2016.
And since every product on Amazon can be sold by affiliates like you, you can tap into this massive income stream that keeps coming every day.
In this Amazon affiliate marketing course I will show you how to start promoting Amazon products on your affiliate website.
Start by Creating Your Amazon Affiliate Marketing Account
The first step to become an Amazon affiliate is to create a free affiliate account on Amazon's associates program.
Your account application will come under review from Amazon staff, and they will mainly examine your affiliate website to make sure it is up to their standards.
Content is the main thing they will be looking at, if you have duplicate and very short content they will reject your application.
This can be the case if many of your blog posts are video based without any textual content as well.
Heavy advertisements can also be a reason why your application could be rejected.
Just make sure you are creating your affiliate website with the highest quality content.
Your main goal should be serving your visitors and providing them with interesting topics with lots of information.
With your Amazon associate account you can promote any product on Amazon and receive an affiliate commission for it.
They will give you reports of your sales performance and show you how much money you have earned from which products.
You can then withdrawal your earnings in so many ways (giving how they have multiple transfer options).
You don't have to be US based to receive your affiliate commissions, as Amazon handles money transfers globally.
How Amazon Affiliate Marketing Commission Works
Amazon doesn't pay a fixed affiliate commission for all the products they have, they instead have different commission tiers for different product types.
They also compensate affiliates marketers based on how many products they sell: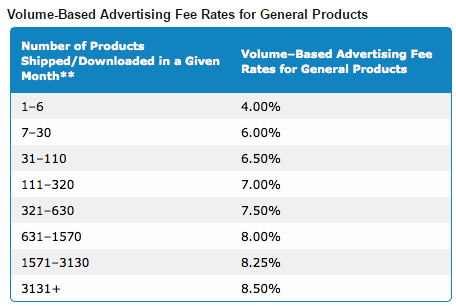 Although these commissions might seem low to you, it shouldn't discourage you because people tend to buy a lot of products from Amazon.
So you will be making your money from high sales volume instead of high sales prices.
For example, you could be making 5 sales on a $30 product that pays you 50% affiliate commission, which equals to $75 affiliate commissions.
And on the other hand you could be making 20 sales on a $100 Amazon product that pays you 4% affiliate commission, which equals to $80.
You can see that you will be earning the same amount and sometimes more from Amazon and getting 20 sales for Amazon products is very easy and attainable.
Another thing to note about Amazon is that they don't only pay you for the affiliate product you help sell.
They also pay you an affiliate commission for anything that your referred-buyer purchases within 24 hour period.
For example, if you were selling weight loss equipment product on your affiliate website, and then one of your visitors did buy that product.
Now this visitor will be redirected from your affiliate website to Amazon so he can make the purchase.
At this point anything that this visitor buys on Amazon within 24 hour window, you will get paid for it.
Even if it is not a product you are promoting on your affiliate website and not even in your niche.
Finding a Profitable Amazon Niche
Niche finding is an important affiliate marketing skill, and if you did it right you will be setting yourself up for a long term affiliate marketing success.
Your niche will affect every aspect of your affiliate business, from product selection to the potential profits you will be making (based on the niche size and its buyers' base).
You need to find a profitable niche for your affiliate marketing website, and this niche must be lucrative on Amazon as well.
Amazon is more than just a marketplace for physical products; there are also ebooks and hard-copy books that you can promote in your niche.
First you have to segment your niche to find out what your products options are.
Niche segmentation will help you understand what your niche wants, and that helps you offer them different solutions through your affiliate products.
Head over to Google and enter your niche keyword followed by any alphabet letter: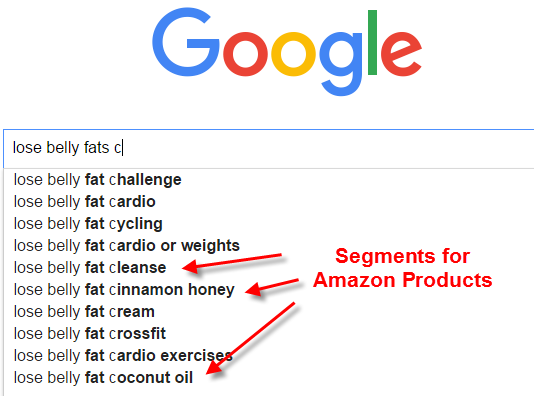 You can see that Google managed to segment our niche, and gave us great ideas for Amazon affiliate products to promote.
Now collect a list of possible niche keywords and segments, and then head over to Amazon to search for them: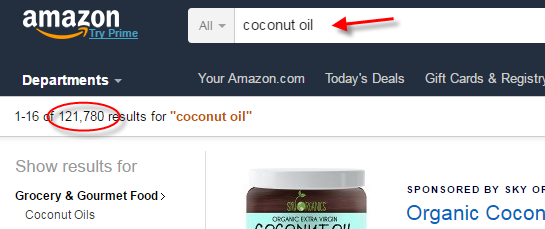 Once you find many products for your niche keyword, it means that there is a great market for it on Amazon.
And you can promote these types of products on your affiliate website knowing that you won't be in shortage of quality affiliate products to sell.
Doing a Proper Product Research on Amazon
Picking a profitable niche is one step, and finding a quality product that converts well on your affiliate website should be your next move.
There is a lot of competition between products on Amazon; some of them are more successful than the others.
You need to be able to find those profitable and successful products to promote them, because they will generate high sales conversion rates for you.
There are two main factors that determine the product's quality and profitability:
Its sales history
Customers reception
Being able to detect those two factors for any product is an important skill, and will make your product selection based on research and not purely by instinct.
Well, here is a technique that you can use.
Search Amazon for your niche keyword: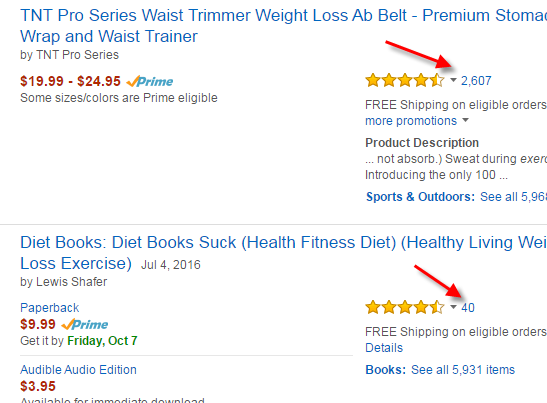 Now both products you see above are well received by their customers as they have 4.5 out of 5 stars.
But the first product sells more since it has over 2,600 reviews as opposed to 40 reviews for the second product.
A clear and safer choice for you is to pick the first product to promote on your affiliate website, as it can convert very well with your visitors.
But don't forget that whichever product you choose to promote, it must be highly relevant to your niche and your affiliate website so people will find it relevant to them.
How to Create Your Amazon Affiliate Links
One last thing you need to know is how to create affiliate links for any product on Amazon.
Affiliate links are what your visitors should be clicking on, and those links notify Amazon that you should be earning a commission for the product you are promoting.
For any product on Amazon, this is how your affiliate link should look like:
http://www.amazon.com/dp/ASIN/?tag=Associates_ID
You only need to replace two values: ASIN and Associates_ID
ASIN is the code of your affiliate product and to get this code, just visit the product page and scroll down to the Product Details section: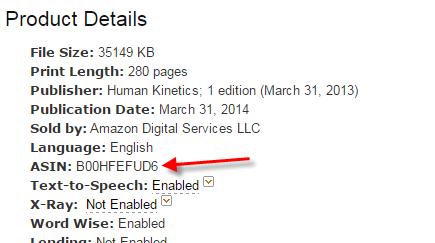 The Associates_ID is your affiliate account tracking code, and by logging in to your Amazon affiliate dashboard you can find it: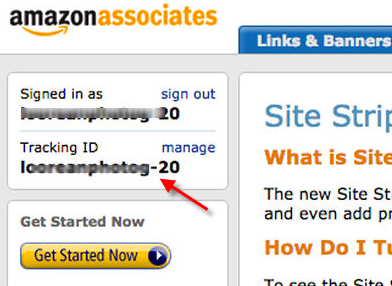 Now you can take your newly created affiliate link and start embedding it on your affiliate website and your product reviews.
Conclusion
You can see success with your Amazon affiliate marketing efforts within the first 3 months, but this is only they case if you understood how affiliate marketing works and did everything right.
Affiliate marketing courses ( affset.com offers a good course) along with articles on affiliate blogs are made to teach you affiliate marketing basics and some advanced selling strategies.
So you should be learning from any teaching source available and commit to your goals if you want to achieve a relatively fast affiliate marketing success.
This Article is a Guest Post From : Ibrahim Dahy, Blogger , Affiliate Marketing Expert & Founder of affset.com