While writing, you'd usually make mistakes and minor errors. But sometimes you need a clean copy for academic or business reasons or even for a great blog. It would take years of practice to learn what you need to write an error-free document. Even for professional writers, it may be challenging to grasp higher level grammar and style nuances. Therefore, you usually get some help to proofread your work. This is where a great tool as Grammarly comes in and that's why we made this Grammarly Review for our readers.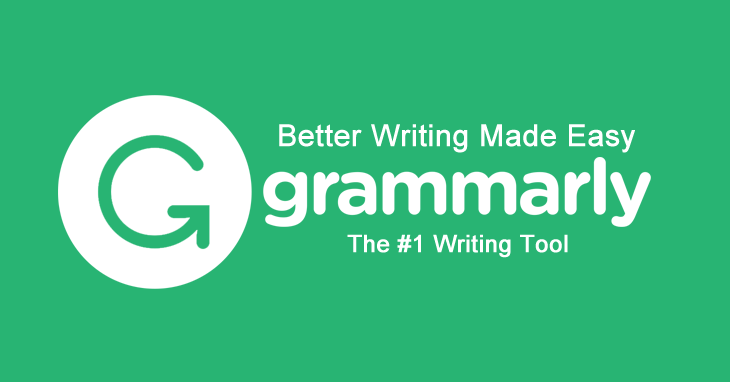 What is Grammarly?
Grammarly is more than a tool. It's the friend of Millions of users who rely on it daily to make their documents, social media posts and messages simple, error-free, and impressive. While typing, it scans your text for writing issues both common and advanced. These issues include modifier placement, article use, contextual and phonetic spelling mistakes, subject-verb arrangement, and irregular verb conjugations. Also, Grammarly suggests synonyms to make your article more accurate and understandable. In other words, Grammarly gives you the confidence you need to write online and offline worry free.
How it operates
Grammarly uses randomly collected anonymous data from its millions of daily active users to be up to date with the latest writing trends. It runs your writing against this vast database of style & content errors. As impressive as this model is, it sadly requires an Internet connection to work, even if you're working offline using its Office add-in.
Easy to use "Almost" everywhere
Grammarly is available for you to use with most content management systems (CMS) such as WordPress, this why, almost, all Professional Bloggers and Content Creators consider it as one of the most essential blogging tools they use to help them create SEO Friendly and High-Quality Content for their Blogs and websites, also Grammarly is available for use in Microsoft office or via its online dashboard that is very similar to Google Docs. On the dashboard, you can create documents and paste your work or even start writing. Your document is then ready for direct analysis while you work by this grammar checker. You could also get the Grammarly Chrome plugin.
Despite Grammarly has its clients using both Windows  Mac, and it has provided extensions for a variety of browsers like Safari, Edge, Firefox, & Chrome; unfortunately, it doesn't work everywhere. It's missing out on Google Docs, and its MS office plugin only works on windows. It also doesn't work on desktop productivity apps like Slides, Keep, Libre office, Apple's iWord Suite & Slack.
First, besides the Grammarly online dashboard, is Grammarly's desktop app for Windows. You can choose between using the editor to create text directly, or import the file you want to proofread and in seconds you're done. It frequently updates itself with the latest writing trends added to Grammarly's database.
Next, there's the Windows MS Office plugin which works perfectly with MS Word or MS Outlook. It saves you plenty of time by telling you where to focus rather than going over your whole work looking for mistakes. Not only does it fix your grammar or spelling errors, but it also develops your grammar and writing style. It appears in the Office ribbon as a menu item, when activated, it shows as a sidebar window. You can tune the issues you want to monitor in your document such as punctuation, style errors & contextual spelling. Just be aware that once you run Grammarly, the "Ctrl+Z" shortcut and revision tracking are disabled which can be a little annoying.
Also, there are the browsers' extensions we mentioned earlier. These bring Grammarly's database wherever you're writing online, including Facebook, Tumblr, Gmail, Twitter, and LinkedIn.
Grammarly also presents you with plenty of great content to aid you to improve your writing skills such as
Its online grammar & style guide; Grammarly Handbook
Discussions on Facebook in the "Grammarly Facebook Community" & via its Twitter account, providing fans with useful grammar tips and style updates
The Grammarly Blog where you'll find invaluable insight into the universe of writing & grammar, fun commentary & daily writing tips.
Simply elegant
Not only is it accurate, but its design is functional and to the point. It has just what you need without extra gadgets. The online dashboard has a dark side panel with the least icons which make it easy to access options swiftly. The desktop app shows icons for premium function on the left side. It also shows useful information on the bottom such as the number of errors (advanced & critical), word count & plagiarism percentage calculator (for the premium subscription), and a score based on the previous factors. The alerts are catchy, but not disturbing. It underlines critical errors (basic grammar & spelling) in RED, and advanced errors (better practice & style flaws) in yellow (The latter is only available in premium subscriptions). When you hover over any indicated error, it pops up the explanation of the error using sample examples with an option to fix it. It's much more detailed than MS Word's grammar checker. The language used is simple and clear. Grammarly also includes the error count at the bottom of the text to indicate how much of your work was left unrevised
It gets even better with Premium

Sometimes while working, Grammarly will alert you that there are some " Advanced issues" you need to address, but to know what they are you need to pay for it. Well, it would normally cost you to be the best writer you could be. For only  $29.95/month,  $59.95/quarter, or $139.95 annually you get:
    A plagiarism checker, that goes through over 8 billion websites, making sure your content is 100% copy paste free & unique. It also generates CITATIONS in Chicago, ALA, or MPA style which are the most popular citation styles. So don't worry if you don't know how to do it, Grammarly has got your back.
A wide vocabulary bank to help you keep your writing diverse and avoid repeating certain words you may use often.
Personalized checks for various document types to suit your writing style.
You can check your work on different websites online.
Easily access your documents on more than one device.
Catch ADVANCED grammar mistakes, "i.e., The squinting Modifier which rearranges your sentence to be more understandable."
Simple explanations of complex grammar & punctuation rules such as Future real conditional, Wrong verb tense, During vs. while, Comma splice, Faulty parallelism,  Colloquial verb phrase, Double subject, and many others.
Expand your dictionary by adding new vocabulary and synonyms.
A score depending on the number of errors, simple or sophisticated, found in your text.
Frequently get performance statistics reports via email to continuously improve your skills.
It's good for business teams small and large institutions alike
For $10 per member a month, you can get your business team (at least three team members) together and get your work done with more confidence now that you have more than one pair of eyes on everything you write.




Grammarly Review In Summary:
Grammarly is one of the most essential Content Creation and Blogging Tools you should use if you want to create High-Quality Content, Grammarly may not be available for every desktop app you use, but it still provides you with a vast which is indispensable for any writer, not to mention its long-lasting positive effects on your language and writing skills.